Your Specialized Help profile can be optimized to best serve the needs of you and your customers. Here are some of the ways that your profile can be optimized:
Profile information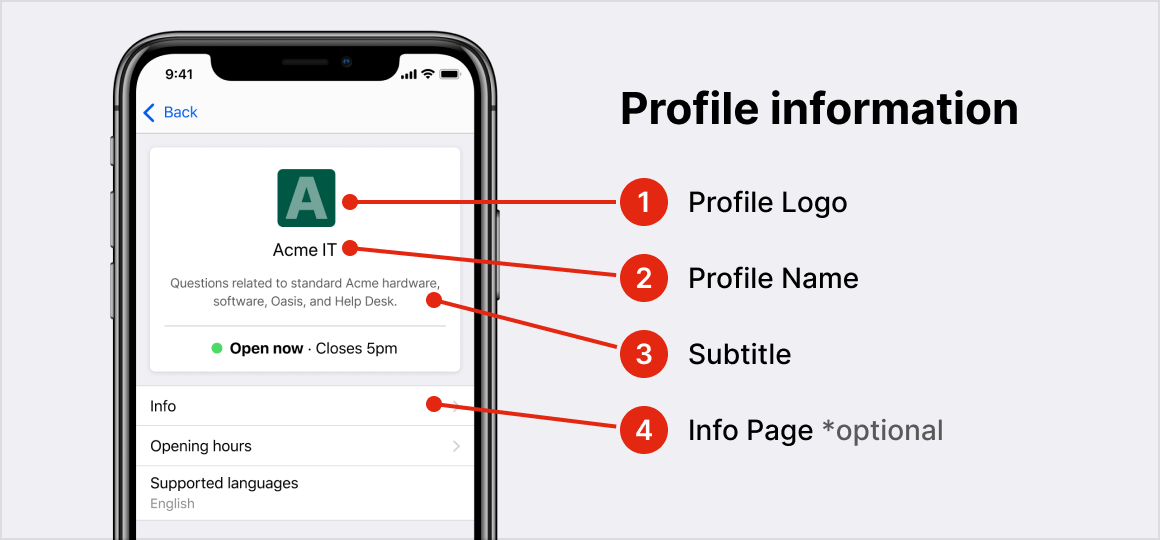 Profile Logo
Profile Name
Subtitle
Info Page *optional
Subtitle (max 120 characters)
Short description that gives the user some context about the service you provide.
- Example: "Questions related to standard Acme hardware, software, Oasis, and Help Desk."
The short description is found just below your logo and name on the profile and is one of the first things callers will see. The short description need to sum up what the caller can expect from calling your organization in a short and precise way - it consists of maximum 120 characters. Is it clear from your current short description what the caller can expect from the service? If not, you should consider updating it, so that it's easy for the caller to know what to expect when calling your service.
Info Page with Additional Information (800-1200 characters) *optional
We recommend that the info page include some of the following elements:
short intro about the company
the type of help you can offer (what blind users can expect from this service, specific examples of how it can be used, etc.)
link to relevant websites - example: "Learn more at…" your company's Accessibility page
The full description of your service will be displayed when the user presses 'Info' on your profile, and is therefore not visible when the user first enters your profile. The user should therefore be able to get a good understanding of what to expect from your service from your short description. You can use the full description to display further information about what your company or organization does, link to your websites, other contact forms etc. The description has a limit of 1200 characters, so even though it can contain a lot more information than the short description, you still need to consider what information is most relevant for callers to find here.
---
Availability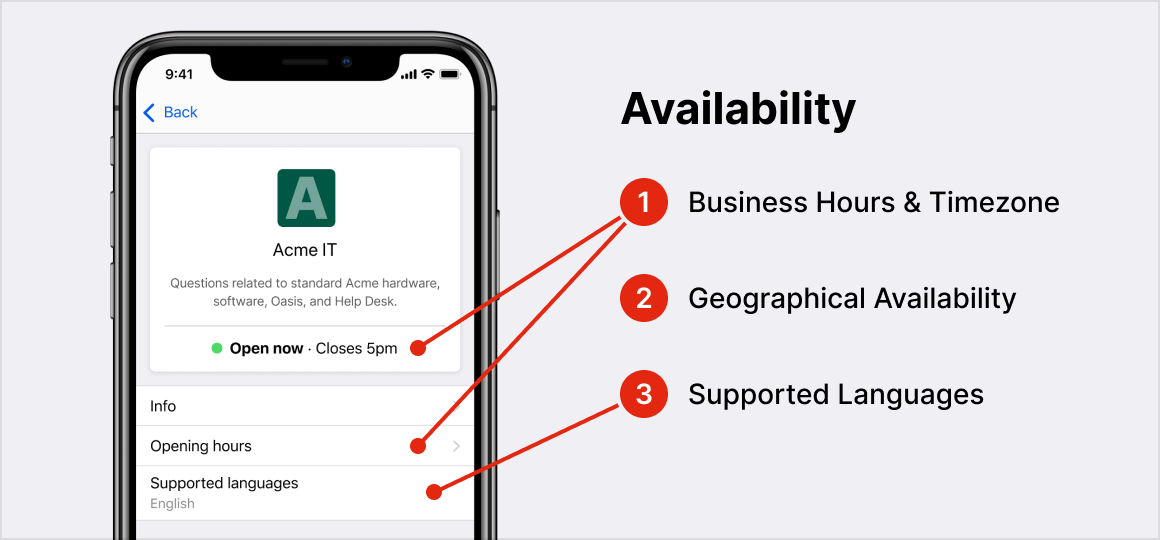 Business Hours & Timezone
Geographical Availability
Supported Languages
Business Hours & Timezone
Be My Eyes users will only be able to call you within your opening hours. The opening hours will be automatically adjusted to the specific location of the user. If users access your company profile outside of your opening hours, your profile will be listed as closed.
Do your opening hours reflect the geographical locations you serve through Be My Eyes? If your company or organization for example offer your service to users in Europe, opening hours in the US day-time hours might not be very useful for European users. As far as possible, try to have opening hours that are practical for users in all geographical areas you cover. If you serve a wide geographical area spanding over different timezones, it might be worth considering having agents in more than one timezone, to better accommodate these time differences with longer opening hours.
Geographical Availability
Please list the countries from where users can contact you. Your profile will only be visible to users in the countries that you select. You can always add new countries upon request. – Example: USA, Canada, UK, France.
Supported Languages
Please add the languages that you support. – Example: English, Spanish, German.
---
Optional features
Social Sharing
Present your own Terms
Max Queue Time
Social Sharing (max 120 characters)
Embrace word of mouth: Allow your blind customers to share their experience after a good call. You can predefine a text that blind people can share on Twitter/Facebook after each successful call (when possible). Please note that the user will not be presented with the sharing option after a bad rating.
Example: "Someone from the Polar Air disability support team just helped me via the @BeMyEyes app @PolarAir #accessibility" - Or "I just received help from the Polar Air disability support team via the @BeMyEyes app @PolarAir #accessibility"
Present your own Terms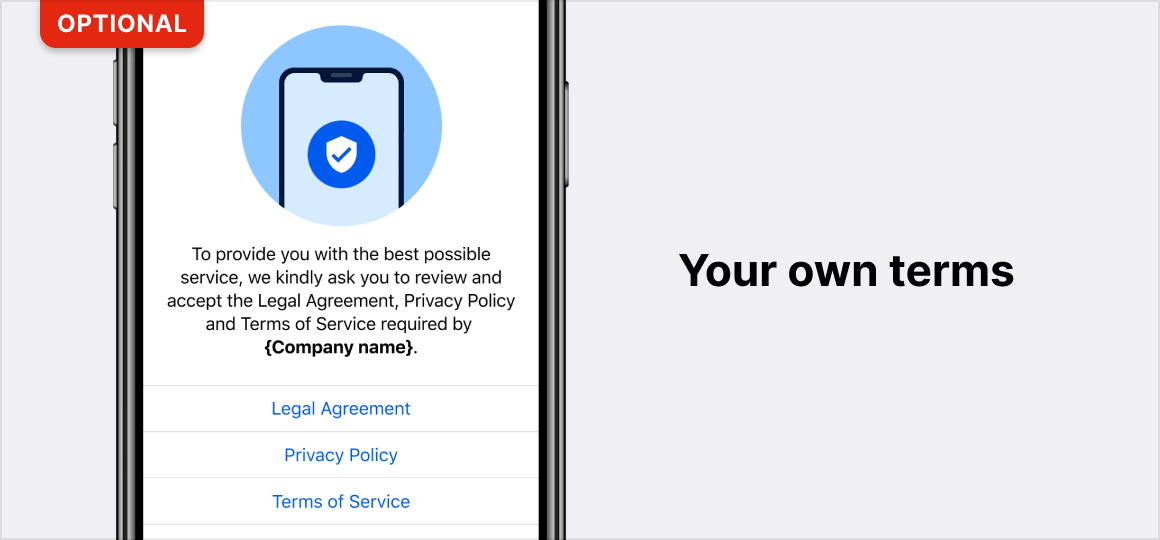 If needed, you can present your own custom terms of use for users to accept before calling your support center. This feature is optional.
Max Queue Time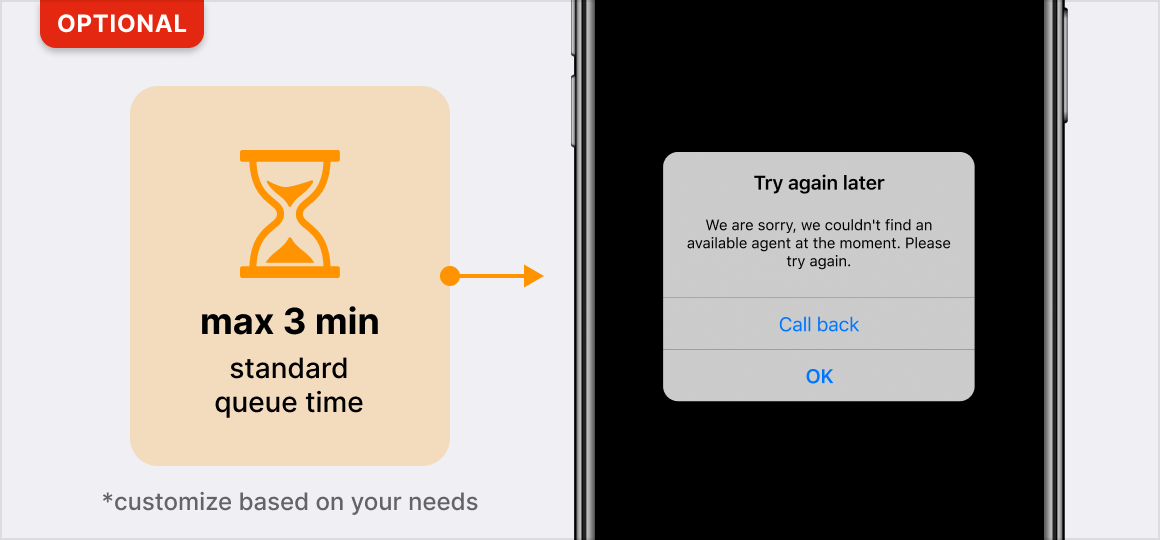 The standard queue time is set to 3 minutes, meaning that a user can be waiting up to 3 minutes before they are notified that agents aren't available. The queue time can be customized based on your needs.
---
How to Update your Specialized Help Profile
To ensure a consistent product for our blind and low-vision users, it's not possible for you to manually make changes to your Specialized Help profile. If you wish to make changes to your profile, please reach out to your contact person at Be My Eyes, so that we can set it up for you.